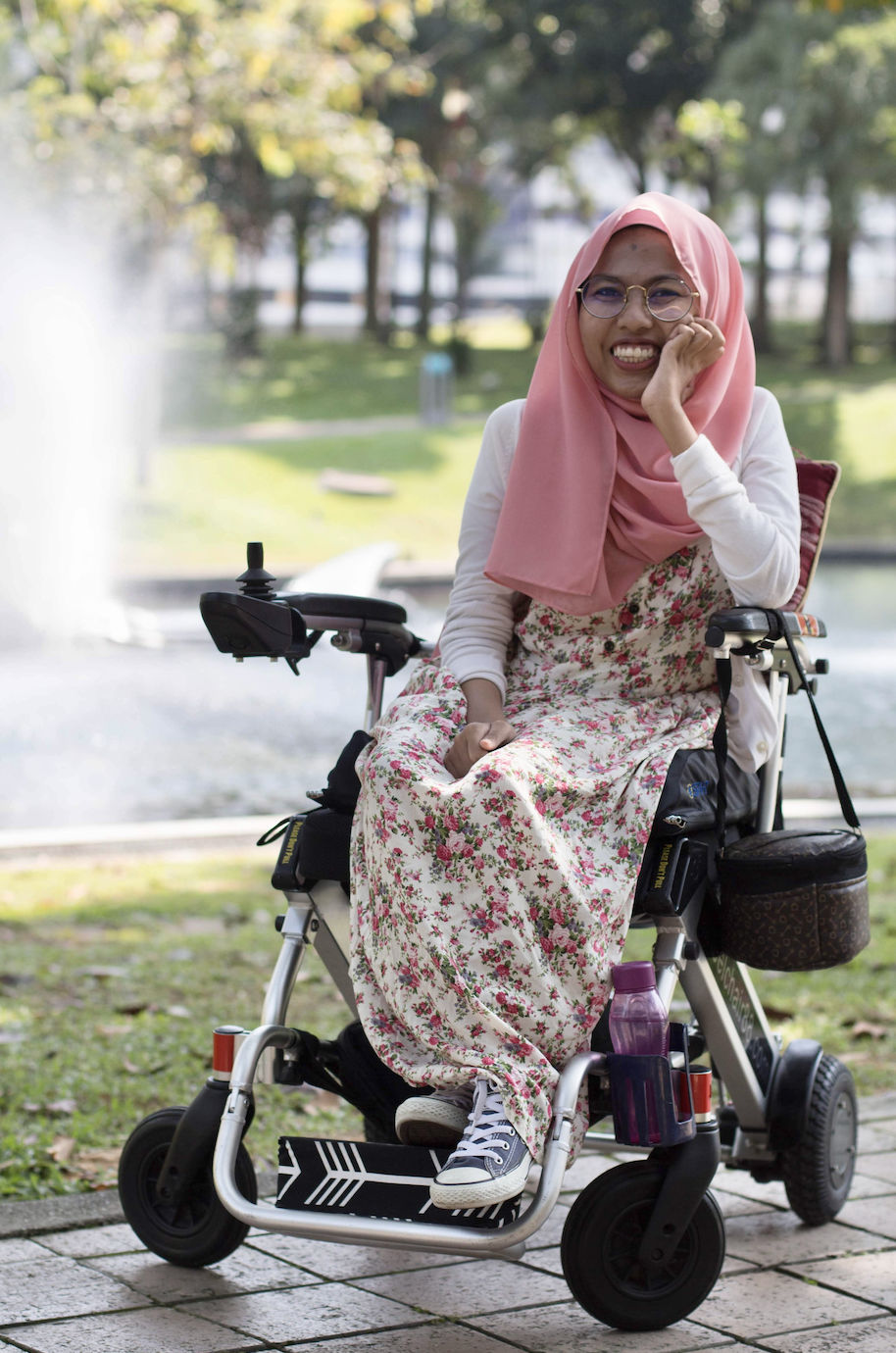 is a very active young artist from Malaysia. Her passion for arts since childhood is depicted in all her designs and paintings. Ainaa's childhood is ingrained with arts thanks to both her parents and grandparents, indeed Ainaa represents generations of love for arts in her family.
Diagnosed with spinal muscular atrophy (SMA) type 2 at the age of 2 years old never stopped Ainaa from being passionate and ambitious about arts. She is also working on her little business start-up "Conteng by Ainaa", which she initiated at final year of college, to be a one-stop art café where everyone can come to shop, have class or workshop and enjoy a cup of coffee – a chillax art centre.
Life is not easy with SMA, and despite the challenges, Ainaa aspires to spread her love for arts and colors. During her free time, she teaches young children aged 2 – 4 years old at daycare centre.
In her strife for normalcy, Ainaa Farhanah is truly a super extraordinary artist. First prize winner at the Jansport x FCUC Bag Design Contest in 2017, shortlisted finalist at the UNICEF Makeathon 2017 Competition, having her artworks showcased at many events and being called for talks and panel at discussion forums – these are all significant milestones for Ainaa as a young artist on the rise.
Ainaa is a Graphic Design graduate of the Nottingham Trent University UK & First City University College, she completed her degree under the Yayasan Sime Darby Scholarship. Prior to that, Ainaa did her Diploma in Interactive Design at KBU International College with the Hong Leong Foundation Scholarship. Ainaa also has attended Fine Arts classes at Jane Yap Atelier.
Ainaa believes that dynamic and complicated hand drawn illustrations is the design trend of the future because no man or machine can replicate exactly the same design. Arts is the process of creating objects or solutions for people - physical items or more abstract systems to address a need or a problem. Ainaa aims to design inclusive items for disabled people, such as inclusive bags for wheelchairs.
Follow her passion for arts and you will discover there's so much love in the road to success.
Click here to read all of Ainaa's articles on SpinalMuscularAtrophy.net.