Jennifer Greer
Last updated: September 2023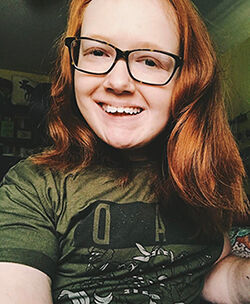 Jennifer Greer is a vibrant 28-year-old woman who thrives despite Spinal Muscular Atrophy Type 2. Diagnosed at just 18 months old, she's been navigating life from her power wheelchair since the age of 2. In 1994, when Jennifer's journey with SMA began, there was much to learn about Spinal Muscular Atrophy, but she's tackled it with grace (most of the time) and determination (always).
Currently residing in Ohio with her parents and three furry four-legged companions, Jennifer holds an associate degree in Web Design and Interactive Media from The Art Institute of Pittsburgh Online Division. Her interests go beyond web design and include digital art, reading, book collecting, gaming, social media, attending pop culture conventions and concerts, and writing fanfiction. If you'd like to keep up with what Jennifer is reading, follow her on Instagram @drearymondayxreads.
In 2020, Jennifer launched her Etsy shop, Dreary Monday Designs, to pursue her passion for digital art. She specializes in digital pet and family portraits, as well as creating fan art inspired by TV series and musical artists. Her talent recently earned her 1st place at her local library's Geekfest Art Award for her Taylor Swift rendition. If you'd like to follow her art journey you can check out her Instagram @drearymondaydesigns.
Beyond her creative pursuits, Jennifer is dedicated to educating others about SMA and the realities of living with a chronic illness. She shares her experiences openly on her social media platforms and with friends and family and is passionate about raising awareness of the mental health aspects associated with chronic disabilities.
Click here to read all of Jennifer's articles on SpinalMuscularAtrophy.net.