Living With a Disability: Movie Recommendations
We asked our Health Leaders, "What good movies or television shows give a credible account of living with disability?" Here are some ideas for good things to watch when you are looking for somthing good to view: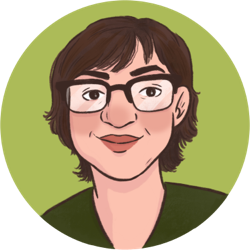 Portrayal of how disability affects the family
Suzanne: I grew up with a brother with a severe case of autism, he was nonverbal, but other than that, his actions and mannerisms were very similar to those of Leonardo DiCaprio in What's Eating Gilbert Grape, so I always loved his portrayal of the character and also the woman who played his mother, who was housebound by her obesity. I would say that movie pretty accurately portrays how those disabilities affect the whole family.
Other than that, Mike and I watched The Fundamentals of Caring (2016) and The Upside (2019) and although we enjoyed them both, we both also would love to see more disabled characters with more of a story line that doesn't revolve around their disability.
I just started watching a new show on HBO called The Sex Lives of College Girls and there is a Black female character in a motorized chair who is very pretty, funny, and sex-positive. Her disability is never mentioned. I think this is a great example of representation.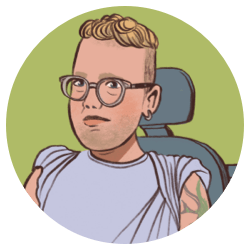 Realistic relationships
Chaz: I absolutely loved the TV series Speechless. It's about a teen boy named JJ who has cerebral palsy and how he navigates high school without the ability to talk. His family is very chaotic, much like mine, but they're also so loving and his mom is exactly what you want: tenacious and takes no prisoners. The dynamic between JJ and his aide is also very realistic as you watch their relationship build. I also really enjoyed how the show never ignored the able-bodied siblings and showcased their struggles as well. My family and I were disappointed when the show wasn't renewed for a fourth season as we were able to meet Micah Fowler, the actor that plays JJ (who actually has the same disability). In the final season, the show was finally getting into JJ's desire to have a girlfriend.
I'd also recommend the movie The Fundamentals of Caring.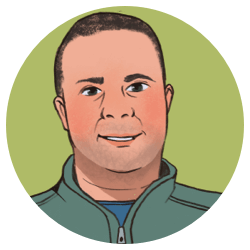 Heartwarming holiday movie focus on self-worth
Mike: I think the quintessential holiday movie is It's A Wonderful Life. Now this movie doesn't deal with a disability but it does deal with depression and one's self-worth. This can be an issue for some people who are dealing with spinal muscular atrophy. I have dealt with periods of depression and questioning my own self-worth. The character of George Bailey feels like his life has been a failure. He wishes he hadn't been born. He is given a glimpse into what that looks like. He learns that his life has been valuable and he has helped more people than he has realized. I know too many of us hear that we are an inspiration. While that drives most of us crazy, I like to think I have helped or inspired someone out there. It is indeed, A Wonderful Life!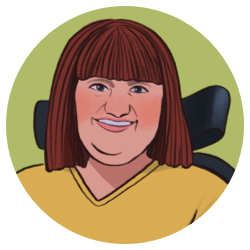 An actor who is a friend to those with disabilities
Michaela: The film doesn't really tackle disability at all, but Miracle on 34th Street starring Richard Attenborough and Mara Wilson is up there with my favourites. It follows Susan, a young girl who does not believe in Santa. Her mother hires Kriss Kringle as the Cole's department store Santa, and so we go on a journey that culminates in Susan believing in Santa.
Richard Attenborough was my favourite film Santa. But as an adult I found out that he had dedicated lots of his charitable efforts towards muscle-weakening conditions. So I like to remember we had a friend in him.
My next favourite holiday movie is almost always reserved for a Christmas Eve watch - A Muppet Christmas Carol. A Muppet take on the Charles Dickens classic novel, we follow Scrooge played by Michael Caine, and Rizzo the Rat and Gonzo as narrators as Scrooge is visited by the ghosts of Christmas past, present, and future.
This movie also features Tiny Tim, who has a physical disability. It shows Scrooge displaying what can be understood as ableism towards him. But as he completes his journey through the movie he realizes that Tiny Tim is worthy of love and support.
It may not be the most perfect representation of disability, given that the story was written so long ago. But this is a movie that fills me with holiday happiness, but also one where I could see myself represented as a child. And during the holidays we need to see ourselves represented!
This article represents the opinions, thoughts, and experiences of the author; none of this content has been paid for by any advertiser. The SpinalMuscularAtrophy.net team does not recommend or endorse any products or treatments discussed herein. Learn more about how we maintain editorial integrity
here
.

Community Poll
Have you shared your SMA diagnosis story with us yet?