Getting Tips and Support at the 2023 Cure SMA Conference
Last updated: September 2023
Last year was the first in-person Cure SMA conference post-pandemic, and unfortunately, I couldn't go due to health issues. I was absolutely devastated, so to finally be able to go this year was so surreal.
All in all, I was super busy, but extremely grateful and constantly amazed at the entire experience.
I think back to when the conference was Families of SMA, and then Cure SMA. I didn't want to meet others at my first conference when I was 10. I just wanted to fit in, which in looking back, I hated. I was made to stand out, but wanted to fit in. Fast forward to me being 20 in 2019, and finally feeling seen and heard and chatting online with the community has really helped me as well.
Travel woes before I got there
I haven't flown to Orlando since my birthday cruise, and genuinely forgot how chaotic it is and am working on ways to lessen my anxiety and stress about this because I deserve calm and peace while traveling (as much as possible especially being disabled). I don't like how chaotic the whole day is honestly and that's why I want to try to make it calmer.
Through the Cure SMA scholarship, we had the opportunity to fly first class. It sounds exciting, but wasn't. I forgot that because I'm so small, I require so many pillows to get comfortable and properly sit up since I don't have my custom chair backrest, it was very tough to get comfortable especially because the seat was super big and I kept falling over, thanks to my severe scoliosis.
Packing pillows
A tip that I learned from others in the SMA community to combat this is to pack pillows in a suitcase and bring it with! In the Traveling with SMA panel at the conference, one of the hosts suggested to take hotel pillows! I love this recommendation because those would be the perfect size!
The size I would need is a very tall and long one to support my back, plus small ones like the one I have to hold my lap desk for my phone and food since sometimes the airplane one cuts into me and I can't feed myself due to the height of the table which puts me at a disadvantage.
*Edit: as of writing this, today, July 20th, 2023, a bill was finally passed through to have us finally be able to avoid all this and finally have our chairs on board!
Another recommendation I have is to use Pre TSA! The fee is definitely big, but it helps to avoid the security check which is of course important but harder and annoying when you're disabled. Plus getting weird looks about your formula and having anxiety that they might throw it out is completely unnecessary.
The conference made up for the difficult travel
Panels
I went to several panels, but these two are the ones that really resonated with me:
Social media panel: One of my favorite tips from this panel was simple, but definitely extremely helpful - be authentic but add advocacy! Shane Burcaw was on the panel amongst others and had shared how he and his wife Hannah do just this in their Youtube videos and I realized that I do the same unintentionally, and I think that it really helps! When you think about it, it's easy! Ex: say I want to discuss air travel and how inaccessible it is, I would mention Cure SMA's advocacy center, and add the website link to wherever I'm discussing this.
Change your brain, Change your life: This panel was hosted by Amber Bosselman, disability life coach! Amber and I have worked together with life coaching and this panel was a great refresher! One of her main examples was thought versus circumstances! Circumstances is the facts, and of course, thoughts are thoughts.
Vendors
They had so many great vendors there, but the ones I went to were Wheeltheworld, a fully accessible travel company, and Granted Engineering, a company that makes unique joysticks! My friend got a glitter mushroom one and I got a rainbow circle one!
Fashion Show
Finally, let's discuss the fashion show! I am so honored to have been chosen to do this show again with so many incredible people that I truly love and admire so much! It makes so emotional to talk about it honestly because I've dreamt about being an advocate and doing something like this forever. I truly love and am so grateful for this community and to be a part of it, we are all such rock stars!
The whole day was extremely long, but so much fun! My dress was different this time but I felt magical! For the design process, we just collaborated on the length, but I didn't get to see the design until the night before. I also had to get different shoes that would fit this dress better, so thank you Amazon for these! I love getting my hair and makeup done and chatting with the crew backstage! I also got my toenails to match my dress! I don't have anything else to say other than I'm so grateful for the direction that we're heading in especially now with this show!
Grateful to celebrate with my SMA community
Going as an adult in 2019 and this year was so nice. I love that we as a community have our struggles but we really celebrate each other as well. I'm so grateful that mama and I were able to go this year and see so many new and old friends and feel so much love! Thank you so much Cure SMA and Genentech for allowing me this incredible opportunity, I'm forever grateful!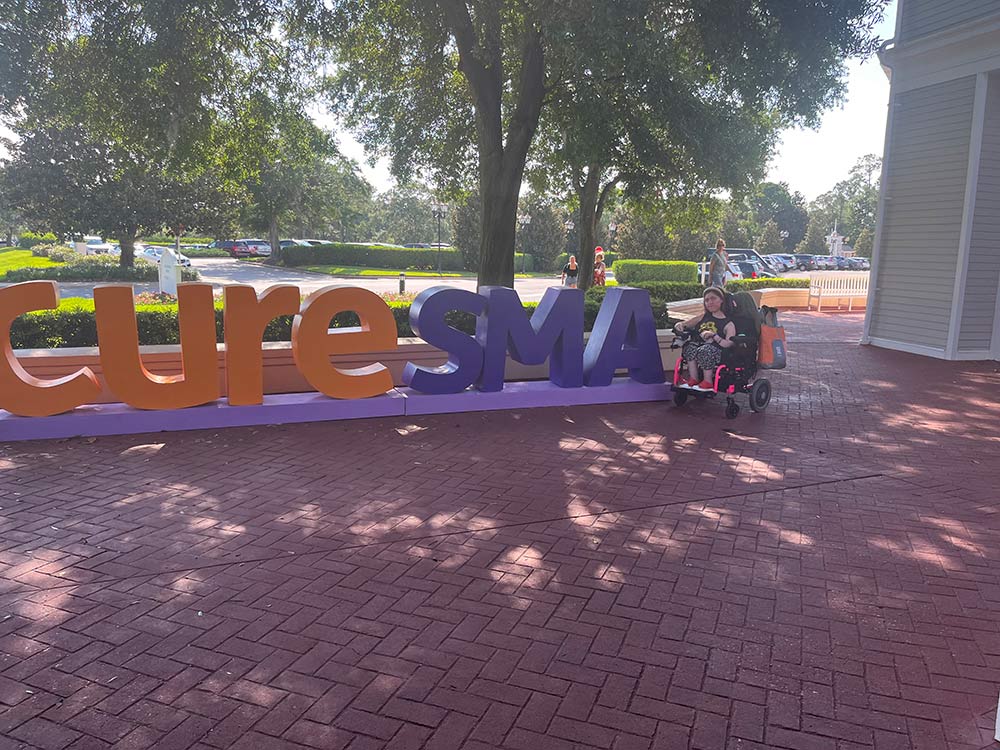 This article represents the opinions, thoughts, and experiences of the author; none of this content has been paid for by any advertiser. The SpinalMuscularAtrophy.net team does not recommend or endorse any products or treatments discussed herein. Learn more about how we maintain editorial integrity
here
.

Community Poll
Do you struggle to find clothing that fits you well?