How Do You Handle Cold Weather?
Last updated: January 2023
We asked our Patient Leaders here at SpinalMuscularAtrophy.net, "How do you handle colder weather?"
Does cold weather impact their SMA symptoms? Do they have go-to workarounds to avoid going out? What do they do when they must go out? Here's what they had to say: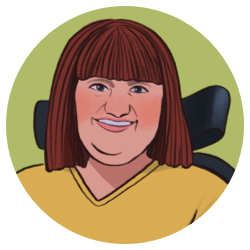 Hats, blankets, and hot-water bottles
Michaela: Cold weather bothers me, particularly once the festive season has passed. I have often said it would be best for me to live somewhere nice and tropical! Cold weather makes my pain worse, and I generally pick up an infection or two. But, having three decades of experience now, there are some things that work really well to help soften the blow.
The first thing I turn to is my trusty hat. Even inside I will wear a warm hat to help insulate the heat into my body. I wear it pretty much for half the year as I try to stop myself from losing any heat. I also turn to warm, cozy blankets which I can wear on my knee in my wheelchair.
But when my hat and blanket are not enough, I turn to heat sources. Traditional hot-water bottles down my back between me and my wheelchair backrest are great for all day or outdoor heat. But I also use microwaveable wheat packs for short bursts of heat.
And finally, for portable heat when I am out and about, I turn to chargeable heat sources. You can get hand warmers which are rechargeable and turn on at the press of a button with multiple settings for heat intensity. You can also get a traditional-sized hot-water bottle which can be plugged in for a short period and which will heat up.
And a bonus tip, I always keep a cigarette lighter–powered electric blanket in my van for extra heat, especially as a driver!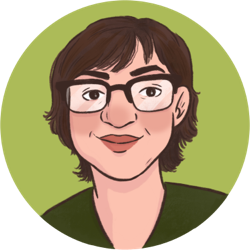 Using a manual wheelchair, instead of a motorized one
Suzanne: Mike has a harder time in the colder weather. We buy hand warmers for his gloves and layer his clothing to help him stay warm. When we go out in colder weather for an extended amount of time we take his manual chair. Once his hands get too cold he has a hard time using the controls on his electric scooter.
If we plan on extended outside activities we will look for a coffee shop or bookstore to pop into to warm up. We try to plan to do things inside during the winter months. Going out to dinner with friends is always a popular option for middle-aged people like us.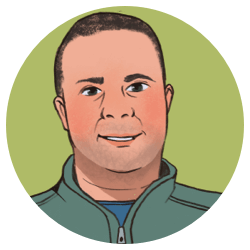 Staying inside – except for Phillies Opening Day
Mike: Colder weather has become harder and harder for me. Over the years, as I became weaker, the colder weather would make it hard for me to use my hands, arms, and legs.
Back when I was still able to drive I had a remote starter on my van. This feature was an enormous assistance to me. Having a warm van on those freezing days helped me be able to drive safely.
These days there are only a few things that I will stay outside in cold weather for an extended period of time for. The biggest one is the Phillies Home Opener. Philadelphia weather in early April is usually cold. I have attended every Phillies Home Opener since 1997. That's a streak I don't want to break.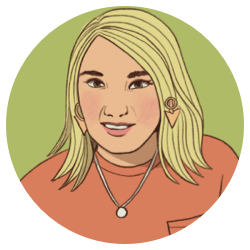 The right jacket, Uggs, and battery-operated hand warmers
Samantha: Cold weather for me has always been a challenge. It is hard for me to regulate my body temperature in general, but it is the worst in cold weather. Dressing in layers helps, but they need to be thin in order to still allow for movement. A jacket that is easy to get on is crucial. I have bought very expensive ones in hopes they would keep me warmer but they were impossible to get into. My newest jacket was $30 at Target. It is made of an incredibly slippery material and a shorter style making it easy to get on and off.
I have added some battery-powered hand warmers to my arsenal this year for walking my daughter to and from school. I am able to hold them while still driving my electric wheelchair.
Keeping my feet warm is also important as my circulation really decreases in the colder months. Some nice thick socks and my Ugg lace-up boots are what I use all winter long.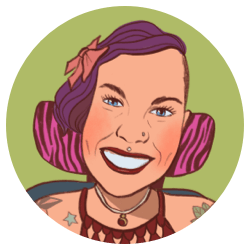 USB electric blanket and hand warmers, plus popping indoors to warm up
Allie: I do not handle cold weather very well, but when I absolutely must go out, I use a USB electric heated blanket that plugs into my chair, USB rechargeable hand warmers that I put in my socks or gloves, a thick windproof cape, a hat, and a scarf. Sometimes I wear earmuffs when it is super cold.
I do try to do more things virtually so I can avoid going out when it is closer to freezing.
Cold weather does not stop my life, and I do enjoy going to events like the zoo for the holiday light walk even when it's cold. I like to wrap my scarf around my face so only my eyes are exposed. Warm breaks indoors are very important for outings as well!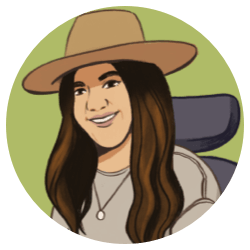 My white fur blanket: warm and cute!
Megan: I would definitely say that I am more of a summer person. I think a lot of people with SMA can agree that cold weather just does not agree with their body. When my fingers are cold I can barely drive my chair. When my feet are cold my entire body is cold. And wearing excess amounts of clothing just makes it difficult to do just about anything, including eating, lifting my arms to eat, or even just rubbing my face.
I definitely try to avoid the cold at all costs but I've also found some techniques in clothing and other things to keep me warm and in the cases that I do have to go out. My new favorite accessory for this season has been a fur blanket. It's not a large one but a small- to medium-size one that is wide enough to go across my back and wrap around the front of me but not long enough to touch my wheels or the floor. I enjoy the blanket over a jacket because it's easily removable, I'm able to move my hands underneath it to drive my chair, plus who doesn't look cute wearing a white fur blanket everywhere!
This article represents the opinions, thoughts, and experiences of the author; none of this content has been paid for by any advertiser. The SpinalMuscularAtrophy.net team does not recommend or endorse any products or treatments discussed herein. Learn more about how we maintain editorial integrity
here
.

Community Poll
Have you shared your SMA diagnosis story with us yet?